Garmin Edge® 520 – Best Bike/Cycling Computer To Train Smarter!
GARMIN EDGE 520 At A Glance
As one of the flag bearers of Garmin, the Edge 520 is one of the best bicycle computers out there in the market specially for riders who have a performance driven mindset for using a computer.
As the first-ever bike computer to integrate with Live Strava segments, the Garmin Edge 520 GPS enabled Bike computer is an elite and trusted computer in the world of competitive cycling. With its ability to capture, display and analyze data accurately, This device helps you to train smarter and get an edge over the competition.
It never gets easier, you just go faster
The Garmin Edge 520 is the first-ever Garmin product to feature live Strava segments along with features like a virtual training partner, customizable data fields, inbuilt FTP testing, VO2 max calculation (calculated by integrating it with a power meter and a heart rate sensor) and recommended recovery time.
Compare Edge 520 With Similar Device
Features of Garmin Edge 520
A robust battery life, high screen to size ratio, revolutionary iLevels compatibility, live Strava segments, ANT+ sensors compatibility, smartphone connectivity, multiple profile options and a ton of other features that the Garmin Edge 520 brings to the table will take your training to the next level.
| | |
| --- | --- |
| Best Use | Cycling |
| GPS Tracking | Yes |
| Current Speed | Yes |
| Maximum Speed | Yes |
| Average Speed | Yes |
| Speed Comparator | Yes |
| Odometer | Yes |
| Trip Distance | Yes |
| Auto Start/Stop | Yes |
| Stopwatch | Yes |
| Clock | Yes |
| Lap Timer | Yes |
| Cadence | Yes |
| Altimeter | Pressure-based |
| Target Zone Indicator | Yes |
| Exercise Log | Yes |
| Illumination | Backlight |
| Low Battery Indicator | Yes |
| Batteries | 1 lithium ion |
| Battery Life | 15 hours |
| Wireless | Yes |
Virtual Partner (train against a digital person)
Bluetooth smart text and call notifications
ANT+FE -C trainer control
Courses (compete against previous activities)
Auto Pause® (pauses and resumes timer based on speed)
Auto Lap® (automatically starts a new lap)
Auto Scroll (cycles through data pages during workout)
Advanced workouts (create custom, goal-oriented workouts)
Time/distance alert (triggers alarm when you reach goal)
Interval training (set up exercise and rest intervals)
Heart rate-based calorie computation
Customizable screen(s)
Power meter compatible (displays power data from compatible 3rd party ANT+™-enabled power meters) Yes (records data approx. 1 per second)
Temperature (displays and records temperature while you ride)
1. Live Strava Segments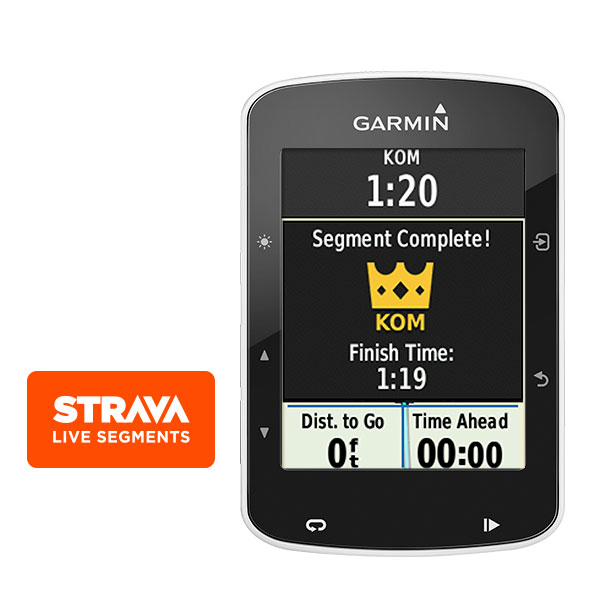 There is nothing quite so motivating as someone to ride with who pushes you. With the Garmin Edge 520 there is a way to achieve that on your own.
The Garmin Edge 520 is the first-ever bike computer which is compatible with Strava Live segments. With the help of this feature, you can select a certain section of the road (segment) to –
Race against yourself (personal best)
Race against the leader of that segment
Race against the friends you are connected with
The Edge 520 comes with a two-month free membership trial of the Strava Summit. Once you are connected, the Edge 520 will automatically sync up with your strava segments giving you alerts often offering in-ride challenges and live feedback from the start to finish of a starred segment.
It gets better…
After completing a segment it also displays your position in the leaderboard rankings of that segment.
How to create courses and use segments? Click on the video below to learn more.
2. Design and Display of Edge 520
After the touch screen functionality of the Edge 510 was not embraced wholeheartedly by the community, Garmin came up with Edge 520 which has seven buttons for the easy moisture-free operation which is a step towards enhancing the end-user experience.
A compact design than the 510, aerodynamically optimized shape, aptly sized high resolution colored screen with customizable data screen options and multiple mounts to fit the computer on the bike makes the Edge 520 a smart and easy to operate the device on the handlebar for competitive cyclists.
The model features a standard Garmin quarter-turn mount on the back which pops into the Garmin or any quarter-turn mount with ease. The package comes with standard and extended out-front mounts.

The user can also set the brightness of the screen, backlight timeout and can choose from two color options – day and night or can just opt for automatic selection of the color mode by the unit.

3. Connectivity and Compatibility with ANT+ sensors
The Edge 520 is capable of connecting with your smartphone allowing you to view text and call notifications from your phone directly on your handlebar.
You can also access the Garmin connect mobile app post pairing your device with the smartphone and get access to social media sharing, weather updates as well as live tracking of your ride.
The best part is the…
Your data is automatically sent to Garmin Connect (an online community) for planning and sharing your rides. Moreover, you can create and download a workout plan from Garmin connect to your bike computer.
The Garmin Edge 520 can also smartly integrate with the Shimano Di2 electronic shifting systems to display the current gear at the screen.
Situational Awareness
The device has the ability to pair with gadgets like Varia bike radar – the world's first bike radar which increases the safety level of the rider and smart bike lights which change their intensity automatically according to the environment and needs of the rider.
If you don't want to leave your grasp on the handle and make changes or view a certain data field on your Garmin then the most convenient way of achieving this is by using the Garmin VIRB Remote which is particularly designed for this purpose.
The Garmin Edge 520 is also compatible with multiple ANT+ sensors like heart rate monitor, power meter, speed sensor and cadence sensor which can be paired with the device as easily as pairing Bluetooth devices.
These sensors open up a whole new landscape of data metrics which is widely used by competitive as well as most of the fitness enthusiast cyclists
4. Training with the Garmin Edge 520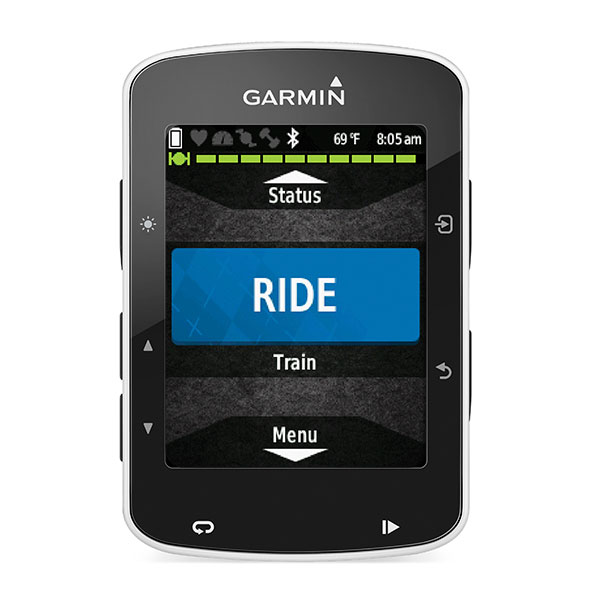 The ability to capture, display and compute a wealth of data finally giving significantly helpful insights to the user is what makes the Garmin Edge 520 the pinnacle of cycle computers especially when it comes to competitive cycling.
Let's get straight to the suite of training capabilities that the Edge 520 is capable of delivering when paired with ANT+ sensors –
Measuring FTP (Functional Threshold Power)
If you have been in the world of cycling for a while then most probably you already know what FTP (Functional Threshold Power) means.
FTP can be determined by performing an FTP test which was never as easy as with the Edge 520.
All you need to do is pair your power meter and heart rate monitor with the Edge 520 and select the FTP test which is already loaded by going to the My Stats section in the menu and then selecting FTP.
In case you are wondering what FTP means then it is the maximum average power that you can sustain for an hour. It basically is a great indication of your cycling performance. Knowing your FTP can help in identifying your power zones which can ultimately be used to create highly structured training plans to improve a specific component of your fitness.
The Garmin Edge 520 provides on-screen instructions for performing the FTP test including warm-ups and speeds during the process and also keeps a track of your FTP over time.
VO2 Max
Similar to measuring the FTP, to get the VO2 max estimate you will need to pair the power meter and the heart rate monitor to your Edge 520. Setting up your user profile and maximum heart rate beforehand gives more accurate VO2 estimates.

In simple terms, VO2 max. is an indication of athletic performance and should increase as your overall fitness level improves.
For measuring your VO2 max –
Ride at high intensity for 20 mins at the least
After completing the ride select Save ride
Select Menu> My Stats > VO2 Max
Your VO2 max will be displayed as a number and position on the color gauge where –
| | |
| --- | --- |
| Purple | Superior |
| Blue | Excellent |
| Green | Good |
| Orange | Fair |
| Red | Poor |
Tips for using the VO2 max –
VO2 max. is the maximum volume of oxygen (in milliliters) you can consume per minute per kilogram of body weight at your maximum performance.
The success and accuracy of the VO2 max. calculation improves when your ride is a sustained and moderately hard effort, and where heart rate and power are not highly variable.
Before your ride, check that your device, heart rate monitor, and power meter are functioning properly, paired, and have good battery life.
During your 20 minute ride, maintain your heart rate at greater than 70% of your maximum heart rate.
During your 20 minute ride, maintain fairly constant power output.
Avoid rolling terrain.
Avoid riding in groups where there is a lot of drafting.
Recovery time
The recovery time is a smart feature that analyses your performance data and assesses the time required for recovery so that when you get on the road the next time you deliver to your best.
Giving your body rest after a demanding ride is very important. The body won't be able to perform if it is not given enough time to recover.
This feature of the Garmin Edge 520 is super helpful in keeping your fatigue level in check as it smartly lets you know if your recovery window is not complete before going on another segment.
In order to use this feature, you need to pair your heart rate monitor with the device and enable the Recovery Advisor feature under the My Stats menu in the device. After you complete a ride you just need to save the ride and the recovery time appears automatically.
A handy reminder to keep your body in the best possible shape while training.
Heart rate zones
Getting a heart rate monitor is a no brainer if you are planning on improving your cardio. Cyclists use it to gather vital information about themselves like their maximum heart rate, resting heart rate and heart rate zones.
One of the best measures of exercise intensity is the heart rate of an individual. A heart rate zone is a set range of heartbeats per minute and training in certain heart zones significantly improves cardiovascular capacity and strength.
With the Edge 520, you can easily set your heart rate zones by entering your maximum and resting heart rate values. It also gives you the option of selecting between three ways of displaying the heart rate zones.
iLevels Compatibility
The WKO4 individual power levels also known as iLevels is the newest metric developed by Dr. Andrew Coggan are training levels specific to the user's current level of fitness and physiology. This can be measured with the help of the Edge 520 paired with a power meter.
The iLevels ensure that you are always training at the right intensity as they detect even micro changes in fitness. iLevels are based on the power duration curve and adjust automatically based on your performance.
You can also download a free 14-day trial of WKO4. Developed by TrainingPeaks, the WKO4 software allows the user to view fully customizable charts for gaining deeper insights into the training data. Several new training metrics like the Functional Reserve Capacity and Pmax training are also being used by athletes and coaches these days to track fitness.
For updating iLevels directly from WKO4 you just need to connect your Edge 520 and it will automatically download the daily iLevels which will be later displayed in a unique 9 level view on the Garmin head unit.
ANT+ Indoor Trainer Control
With the Garmin Edge 520, you can create your favorite tracks or courses in your training room by using the resistance of your ANT + enabled indoor trainer.
Be it your favorite activities or your favorite workouts your indoor trainer will simulate exactly what you want to train on even providing a virtual assistant to compete against. You just need to pair your indoor trainer as you would with any other ANT + device with the Garmin Edge 520.
To start training with your indoor trainer you need to follow these simple steps –
Select Settings under the home menu and then go to Sensors>Add sensors
Select the Indoor trainer option and pair the sensor
After the pairing is complete go to the Training section and select Indoor Trainer
You can select between following a course, previous activity or a power-based activity downloaded from Garmin connect
In case you want to manually set the resistance or a target power then the Edge 520 provides you with these options as well

5. Navigation
Initially, when the Garmin Edge 520 was launched it was not able to give turn by turn navigation instructions. Thanks to the updates though now you can get turn by turn navigation with arrows being displayed on the screen which tells you the direction of the turn.
The best way to achieve accurate navigational directions is by using Ride with GPS and following some simple steps
Create a route
Hook up your device to the computer and download the TCX files and drag them over to the folder – New files
Go to Menu>Training>Courses>Select the Route that you created
Start riding and get turn by turn directions as you go along your route
Here is a video showing exactly showing this –
This will display a cue card showing you the directions and show you the direction of the next turn and how far is it from your current location. Also, right when you are about to reach the turn it will prompt you to take the turn even mentioning the name of the road in most of the cases.
There's more…
Even when you are not on the map screen you will get a nice little pop up telling you when a turn is coming up.
CHECK EDGE 520 PLUS CURRENT PRICE
How to use the Garmin Edge 520 the best way
The smartly engineered small bicycle computers like the Garmin Edge 520 track more metrics than we could have ever imagined. With so many options sometimes confuses the user and results in him not utilizing the device to its full potential.
Following a few simple pointers can help you immensely and here we are going to discuss exactly that right from how to get started with your Garmin Edge 520.
Getting Started With Edge® 520
Before you get on the backseat of your bike and start riding with your computer you need to set it up so that it can track your much-anticipated data accurately. For setting up your Garmin Edge 520:
First, charge the device by connecting it via the USB cable that already comes with the package
After the device is charged, press and hold the power key to turn it on
While using the device for the first time you will need to configure the settings by entering data such as – Weight, height, cycling ability and creating activity profiles
You can also pair the computer with your smartphone to enable features such as Smart notifications of calls and text messages along with automatic sync up with Garmin Connect
Attach your Edge 520 to your bike by using the mounts that come with the package and you are ready to conquer the tracks
After completing a ride you can save the details of the ride and later upload it to Garmin Connect where you can plan your next rides and share them with your friends.
Need more information before you start? Check out this Garmin edge 520 Manual & Instruction.
Setting up Data fields for a ride
With a ton of data options that the Edge 520 provides sometimes, it gets difficult to decide on which data options to look at while you are on the road.
The Garmin Edge 520 allows you to view up to 10 data fields at a time on the screen. However, you can always customize the screen to display only the data fields that you want to view. As a rule of thumb 7 data fields is the optimum number preferred by most of the professional cyclists out there.
But you are the boss here and it all boils down to your own convenience.
Some data fields that are common on most of the rider's screens are –
Time
Gradient
Distance
Elevation
Heart rate
Calories
Power
Time Intervals
Lap timing
You can sometimes do without viewing data like on the screen while riding alone and can analyze it afterward.
However, time spent on the bike as well as time spent during intervals is hugely important and this makes lap timing a must-have data field on the top of your screen. This ensures that you do enough work but not too much.
FAQ
Q) Is the Garmin Edge 520 Waterproof?
Ans – The Edge 520 has a standard IPX7 waterproof rating meaning it can withstand "Incidental exposure to water of up to 1 meter for up to 30 minutes.
Q) Does the Garmin Edge 520 have navigation?
Ans – The Garmin Edge 520 is a compact GPS that pairs with all sorts of sensors, track your progress, and can upload automatically to Garmin Connect to sync to Ride with GPS. Any sensors you have paired while recording will be included in your ride data for later analysis.
Q) Does the Garmin Edge 520 have maps?
Ans – Navigation. The Edge 520 includes Live Track, which provides instant GPS tracking through the Garmin Connect app or website. The 520 has map support as well as turn-by-turn navigation, and it even comes with preloaded course navigation.
Q) How do I calibrate my Garmin Edge 520?
Ans – Go to Menu>Settings>Sensors
1. Select your power meter.
2. Select Calibrate.
3. Keep your power meter active by pedaling until the message appears.
4. Follow the on-screen instructions.
Q) Does Garmin Edge 50 have Bluetooth and touchscreen?
Ans – Notably, the 520 has seven buttons, not a touchscreen like the outgoing 510 it replaces. And while a Bluetooth connection to your smartphone can provide automatic wireless uploads if your free Garmin Connect app is open on your tethered smartphone.
Q) How do you reset a Garmin Edge 520?
Ans – Holding the power button for 10 seconds resets the device. Please note that this doesn't delete your data or settings.
Final Thought

As one of the flag bearers of Garmin, Edge 520 is one of the best bicycle computers out there in the market especially for riders who have a performance-driven mindset for using a computer.
This device is for those who like to go out & do adventure stuff during the season. Not for other types of bikes like hybrid or comfort. A comfort bike is usually made for city touring and it gives you a more enjoyable riding experience. Mybikexl talks a lot about comfort bikes and they also have a solid guide on some of the top comfort bikes out there.
The American company has specifically innovated this model to help competitive cyclists in their training by adding Live strava segments and the ability to track metrics like FTP and VO2 max regularly. The design of the device as well the bright display on a perfectly sized screen has led the Garmin Edge 520 to be the favorite for so many riders in the world.
The whole package is priced at a reasonable price for the plethora of features that it offers to start for situational awareness like Bike radar and smart lights to incoming text and call connectivity with the phone.
For riders more interested in training data than detailed mapping, the Garmin Edge 520 is one of the best options with robust battery life and a high screen-to-total-size ratio.
Gadgets encourage you to best your best power, best speed, time on a segment – encourages you to push yourself. However, there is a discussion going on among some riders that people are getting too much obsessed with data and are forgetting about the simple pleasure of riding a bike.
Are we relying too much on data? Let us know what you think about it below.
Contact us if you need help and support.
Useful Resource